The Real Iconic Things to Fashion Blogging
I've been meaning to write a post like this for a very long time now and I almost finished it last week but couldn't because of School work! IFB posted their "Top 15 Iconic Things To Fashion Blogging" what seems like years ago if any of you remember and it has been one of the funniest and probably most genuine articles they've ever posted. I do love IFB and it is a VERY
useful site for fashion bloggers but it's
practically
a spam enthused blood bath of people "suggesting" that you follow each other because the other decided to follow you these days...
Anyway, you can see below the diagram they designed
featuring
these 15 iconic items:
Now this list is a bit unrealistic because lets be real here,
Céline handbags and Alexander Wang sandals aren't cheap and

to own these items you have to have a lot of disposable income [or in blogging terms get a lot of ad clicks] which the majority of fashion bloggers probably don't have... Anyway, this list seems catered to the beautiful Rumi Neely's and Aimee Jenny's of the fashion "blogosphere" [blogosphere is such a cute word!] so I modified it and chose items that I think are

more common. But firstly, here are a few statistics from Lookbook- the breeding spot for all personal style bloggers or the enemy's of fashion's society I like to refer to as hipsters. I suggest you refer back to these statistics when reading my article so you have a reference point since I've used Lookbook statistics throughout this post.
Statistics from www.lookbook.nu on
24/11/2012 between 9.30p.m. to 10.p.m
1,710 looks
and
303 users
for"celine"
clear
35 looks
and
0 users
for "celine luggage tote"
clear
2,903 looks
and
3 users
for"Alexander wang"
clear
64 looks
and
0 users
for "topknot"
clear
2,671 looks
and
3 users
for"balenciaga"
clear
664 looks
and
46 users
for"VALENTINO"
clear
6,700 looks
and
309 users
for"chanel"
clear
51 looks
and
0 users
for "widebrimmed hat"
clear
90 looks
and
0 users
for "mulletdress"
clear
1,397
looks and
0 users
for"peplum"
clear
1 look
and
0 users
for "caviarmanicure"
clear
0 looks
and
0 users
for "heatwavelipstick"
clear
49 looks
and
0 users
for "floralheadpiece"
clear
1 look
and
0 users
for "roundrim sunglasses"
clear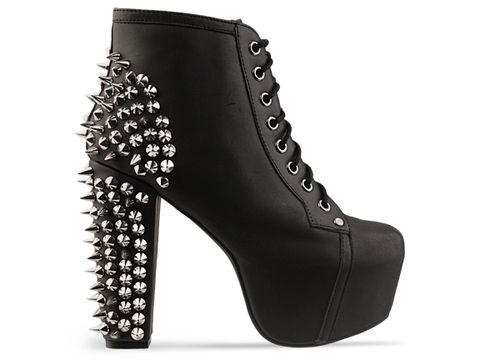 Jeffrey Campbell's
Jeffrey Campbell's are the most iconic items to fashion blogging. It's a sad truth, but they really are. Nearly all of the bloggers I follow all wear Jeffrey Campbell's and if you don't follow any bloggers that do wear them here are some statistics from Lookbook!
11,378 looks
and
2 users
for "JEFFREYCAMPBELL"
clear
2,099 looks
and
0 users
for "JEFFREYCAMPBELL lita"
clear
Ashley's verdict on Jeffrey Campbell's: Personally, I hate Jeffrey Campbell's. Bold statement, but I think they're ugly and they're just not my style. I used to really like the Lita's and planned on buying them in a fleeting moment of wanting to "fit in more" with the blogging crowd- call me shallow but yeah, I did want to try and "fit in" more with the blogging crowd after seeing so many successful ones wearing them. But a friend made me see sense quickly and decide against the idea. So to conclude on that point, I really do hate Jeffrey Campbell's, I personally don't think they're chic and anyone that thinks he's the "king of shoes" as many bloggers do, is deluded. And another point, enjoy a Jeffrey Campbell joke from @TOMFORDISMYDAD
Disclaimer to any bloggers that are reading this who own a pair.
Please stop wearing them if you can. They're an eyesore and not THAT aesthetically pleasing to the eye. But if you can pull them off without me hating your look with a passion, then that is seriously an achievement.
Disco Pants
I'm always on top of trends but I really didn't know of this one right away and only really took this trend seriously when I went to Jay Z and Kanye West's Watch the Throne concert in June [one of the best concerts of my life!] and for every 10 girls, about 5 would be wearing disco pants. Again, here are some statistics from Lookbook:
766 looks and
0 users
for "disco pants"
clear
Ashley's verdict on disco pants:
Again, I'm not a big fan of disco pants purely because of what I associate them with- teenage style bloggers that actually have no regard/interest in fashion and I mean giving blank looks when you mention the name "Rei Kawakubo" or "Haider Ackermann", naive fashion students who think they're too cool and wear sunglasses at night- yes, unfortunately these people do exist and as of this year they've started to invade FNO and "indie" girls with dip dye who pair them with Air Max's or creepers. That by the way, and any other hipster kind of fashion similar to that kind is not a good look. No matter how cool you think you look and if you're still kidding yourself that that's a way of expressing yourself through clothing then you need to re-evaluate your life.
Something Vintage
THERE IS ALWAYS SOMETHING VINTAGE. Albeit it be a thrift item or a vintage hand me down from the bloggers parent or grandparent, there is always something vintage in the outfit post.
86,923 looks and
1,321 users
for "vintage"
clear
Ashley's verdict on vintage:
I actually really love vintage clothing, I just find it hard to either find the stuff I like that fits me or isn't too hipster or wacky. I say, wear vintage clothing but just make sure you don't look homeless and pair all your baggy vintage items together at one time.
DIY posts
In the summer of 2012, I probably saw well over 10,000 DIY posts that showed you how to stud either denim shorts, army jackets or leather jackets. WE GET THE IDEA. These posts became oh so irrelevant when River Island and Topshop jumped on the bandwagon and started stocking these things. I AM CONFIDENT THAT THE WHOLE BLOGGING COMMUNITY CAN VERY COMFORTABLY STUD AND DISTRESS SHORTS.
18,028 looks and
66 users
for "diy "
clear
Ashley's verdict on DIY posts:
I
don't really have a strong opinion on these because they don't interest me. I guess that they are probably fun to try out if you're bored or have nothing better to do. Do I think they're great for people on a budget? Probably, but I'm sure I've seen them advertised in shop windows for £10 or less, Bloggers who are still posting DIY techniques, just stop. Seriously, STOP. It's not cute or funny anymore. I'm reiterating this point again, WE ALL KNOW AND UNDERSTAND THE ART OF STUDDING and we have "HOW TO" YouTube videos on them anyway.
Galaxy Print
Christopher Kane is a genius. For those fashion bloggers who don't know who he is, I'm going to link you to his Wikipedia page since I could write an essay on him but I'd probably go off on a tangent on why he's so amazing and why he's one of my "special designers" so Wikipedia will be more concise and effective.
http://en.wikipedia.org/wiki/Christopher_Kane
I hope some of you have bothered to read about Christopher Kane, I know many fashion bloggers do actually know who he is but THERE ARE quite a few style bloggers- in my opinion, if you only post pictures of your daily outfits then you're a style blogger NOT a fashion blogger (and the occasional wish list, Instagram post, Fashion week post DOESN'T count because the reader can instantly tell that you are just blogging for the sake of "shaking things up a bit"). Before any of you leave angry comments about this revelation, I'm in the process of writing and argument why this is true so don't embarrass yourselves on the Internet because I will use your comments for the argument and pick apart your likely to be foul statement,
Christopher Kane started the galaxy trend with his Resort 2011 collection
. So that is why you see the awful galaxy printed leggings, t-shirts and backpacks at Topshop, Black Milk, River Island and anywhere else that could be associated with the shops listed.
1,570 looks and
194 users
for "galaxy "
clear
Ashley's verdict on galaxy printed leggings/anything galaxy printed that's not designed by Christopher Kane and just looks cheap:
Tacky and disgusting. One should only wear galaxy print anything if it's by Christopher Kane or to some degree from th
e high street, as long as they don't look cheap or like they were made using DIY.
Creepers
One would assume that creepers would be a no go-to shoe for the always put together bloggers that we idolise and envy to look as cool as, but that doesn't seem to be the case.
Ashley's verdict on creepers:
Mixed. I originally thought they were really cool and awesome because my friend wore the white Underground creepers with some Comme Des Garçons trousers and tailored blazer and the look had a suave feel about it and also because I loved the ones Prada came out with for Spring 2011 Ready-To-Wear- I actually found those gems on sale at Holt Renfrew in Canada in my size and was going to buy them but my convinced me that they were going to date quickly and it'd be hard to wear them with the right things... Anyway, enough about my Prada sob story and back to the point! Creepers then became a hot commodity and everyone started wearing them and in the words of the great Gela Nash Taylor "big is the killer of cool" and again, they're for indie girls on Tumblr that wear unflattering beanies with stupid statements like "Comme Des ****down" thinking it's kitsch- whenever I see those things, I feel like saying in my best Billy from School of Rock [he was the band's stylist] voice, "you're tacky and I hate you." You can probably tell by now that I don't appreciate indie girls so called "style"...
5,019 looks and
3 users
for "creepers"
clear
Gela Nash Taylor & Pamela Skaist-Levy with turquoise dip dye
Rumi Neely of Fashion Toast with ombr

e

hair
Dip dye/Ombre hair
Bloggers are becoming iconic for having dip dyed pastel hair (popular colours include purple, blue and even silver) or ombre as spor
ted by famous bloggers such as Rumi Neely of Fashion Toast.
Ashley's verdict on dip dye/ombré hair
:
I actually love this trend! Surprising right? Considering I have what would be considered as a vendetta against hipster/indie. If I could, I would have cool turquoise dip dye in the Summer like my friend Molly did.
Army jacket:
In the words of Nas, "army jacket swag, army jacket green and black" has cease to exist. Army jackets with disco pants. Army jackets with leggings. Army jackets with vintage dresses. Army jackets with studded shorts. Army jackets with maxi skirts. Please, for the love of Anna Wintour (or Carine Roitfeld if you're Anti-Wintour) and the rest of the fashion world- STOP WEARING ARMY JACKETS! And if they're
over sized
and vintage then I can't work out if you're a hipster or just homeless- and trust me, neither of those are good looks.
Ashley's verdict on army jackets
:
Army jackets were cool for about 2 weeks, now they're not. Especially, if they have studs or badges sewn onto them. But to be honest, if you must customize your army jacket, badges that are actually original are a lot better and by original I don't mean "ying and yan" symbol ones. The reason I don't like army jackets in particular is because they're part of my uniform for CCF (see below for an explanation of CCF and a horrible picture of me in my uniform at camp earlier this year- the folded up blue thing on the back is my beret!) so they're simply not cool to me.
CCF:
The

Combined Cadet Force (CCF)

is a

Ministry of Defence

sponsored

youth organisation

in the

United Kingdom

.

Its aim is to "

provide a disciplined organisation in a school so that pupils may develop powers of leadership by means of training to promote the qualities of responsibility, self reliance, resourcefulness, endurance and perseverance

".
2,474 looks and
74 users
for "army "
clear
Instagram posts:
Instagram posts are so droll. If you're blog is good enough then I will follow you on Instagram or Twitter so I therefore don't need to see pictures of the food you ate on Wednesday or what you tried on in Topshop and didn't buy.
Ashley's verdict on Instagram posts:
I feel like Instagram posts are just posted for the sake of posting. I don't really understand the purpose of them anymore unless you didn't take your camera to a fashion event/sale preview/sample sale and you were forced to take photos on your phone

…

Everyone makes these posts and I wouldn't mind so much if they were made once or at the most twice a month, but EVERYDAY?! Why torture your readers with pictures that are made to look even more blurry because if the filters?
"Best of fashion week" posts
During the fashion months of September and February, is probably one of the few times the typical fashion blogs actually share their opinion. There is ALWAYS a "my favourite shows" post during the different fashion weeks. The even bigger problem with these posts, is that they're the most predictable shows that are chosen i.e. Burberry, Louis Vuitton, Chanel, Oscar de La Renta, Diane von Furstenburg, Dolce & Gabbanna etc. I'm more likely to look at the pictures you've lifted from style.com if they're pictures of collections that I haven't seen before.
Ashley's verdict on "best of fashion week" posts
:

Now, THESE are probably more irrelevant than Instagram posts. Being a fashion junkie, I follow too many editors, bloggers and fashion reporters on Twitter that attend all the fashion shows at fashion week and tweet about every single look or post the looks on Instagram. If I'm obsessed with the designer and the show is on the weekend or after School then I will even watch the show live. Now, what many bloggers tend to do, is post maybe 4 or 5 pictures from their favourite shows and I just don't understand why! The pictures are just pictures from Vogue.com or some other giant corporate fashion site so it's not as if you attended the shows and took pictures from a different angle- I appreciate that more because then the post has much more of a personal touch, but they're always just the same images that have been floating around the Internet. The thing that bothers me even more about these posts are that they have no opinion or review along with them it's usually just a sentence or two on why the dresses and pastel colours were fabulous! YAWN! These posts are worthless in my eyes unless you have some kind of review to justify why you liked the collection so much. I wouldn't mind so much if they were even just pictures of new brands that I'd never seen or heard of because that way it's something new and different… I once got an ask on Tumblr about this, so I linked it below for you guys to see!
▼
Anonymous
LOVE this question! Basically, I don't see the point in blogging about fashion week because all the big magazines and fashion sites do so perfectly well so I feel like my readers would just find it boring to read about that stuff on my blog- I know I would!
-Ashley
Xoxo
▼
Anonymous
I don't think you understood/read my answer properly so here it is again:
"LOVE this question! Basically, I don't see the point in blogging about fashion week because all the big magazines and fashion sites do so perfectly well so I feel like my readers would just find it boring to read about that stuff on my blog- I know I would!"
What I was trying to say was that I don't feel the need to read the fashion blogs that post about fashion weeks because I read Vogue, Style.com, Harper's Bazaar, Elle, Marie Claire, The Huffington Post, fashion editors and people in the industry tweet's and much more about fashion week. So I find posts about that stuff boring most of the time because it's usually similar to what the corporate websites post and people usually just pick their favourite looks.
To conclude, I most definitely don't find blogs that blog about fashion week boring- I was talking about posts on fashion week since I've usually seen them all before. But thank you for your concern about me being bored! :)
-Ashley
Xoxo
To conclude this post even if you've loved it or hated it, leave me a comment or send me ask anonymously on Tumblr! I'll be making more posts like these in the future so this isn't just a one off thing!
Thank you!
Peace and Love
-Ashley xoxo
[Le Style Kon-Uh-Sur]